First Amendment in review
Interpretation of Religious Liberty Clauses under continual revision
The story of the First Amendment during the past decade has been one of continual revision by the judiciary, push and pull by Congress, and significant expansion of executive authority for the advancement of "faith-based initiatives."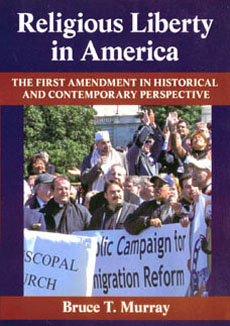 Author Bruce T. Murray explores the "First Liberty" – past and present – in his new University of Massachusetts Press book, Religious Liberty in America: The First Amendment in Historical and Contemporary Perspective.
Since colonial times, Americans have disagreed about the proper role of religion in public life and where to draw the line between church and state. In this volume, Murray re-examines these debates and distills the volumes of case law they have generated. He places particular emphasis on contemporary controversies, such as religious symbols in the public square, the Pledge of Allegiance – with the words "under God" – and faith-based initiatives. In addition, Murray explores the Supreme Court's evolution in its interpretation of the First Amendment for the past 200-plus years — including the recent configuration of the Court with John Roberts and Sam Alito.
Religious Liberty in America was selected by Choice – a publication of the Association of College and Research Libraries – as an "Outstanding Academic Book" for 2008.
"Murray explores numerous cases in public law, especially as they illustrate the changing landscape of interpretations of the First Amendment. He looks at faith-based initiatives (Bush's legislation), issues involving religious liberty in public schools, and other topics that illustrate that the 'wall of separation' has been rather porous. Murray is very effective in showing how terms such as 'liberal,' 'conservative,' judicial 'activism,' and judicial 'restraint' are actually moving and evolving targets."
— G.H. Shriver, Professor Emeritus, Georgia Southern University (from the October, 2008 issue of Choice)
Religious Liberty in America is available at libraries throughout North America, and it may be purchased from the University of Massachusetts Press.
Find out more about the author here.